ARCHITECTURE & CONSTRUCTION
Construction signs that stand up to the toughest worksites.
From worksite signage and corporate branding to wall murals and blueprinting, architecture and construction firms have been turning to large format printing. Roberts & Ludlow Printing is a reliable partner for printing compliant, rigid outdoor site signage durable enough to stand up to outdoor elements. From important site safety notifications to indoor graphics and wayfinding signage, we can produce almost any type of graphic or signage required.
Architectural Renderings
Blueprinting
Window decals
Vinyl Graphics
Wayfinding Signage
Indoor Graphics
Wall murals
Corporate Branding
ANSI Safety Signage
OSHA/Hazmat Signage
Entry/Exit Signs
Commercial Advertising Signage
Preleasing Signage
Logo Signage
Corporate Identity Graphics
Coming Soon Building Signage
Watch this short video to see some examples of these applications.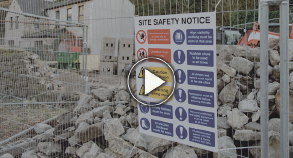 Contact us today to learn how we can meet all your site signage execution needs!
Don't see what you're looking for? Give us a call at 413-583-5220.
Get Started on a Project
You can contact us by phone at 413-283-9356 or 413-583-5220, fax at 413-283-4403, email info@robertsprinting.com or send a message through our contact page. Visit us at 1791 Boston Rd, Springfield, MA, and see for yourself who we are and what we can do for your printing needs.